WALL.E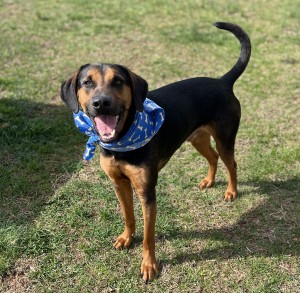 12/01/2020
02/23/2022
Male
Medium : 20 - 45 lbs.
Hound
Hound- Sleek black and tan coat. About 45lbs
HISTORY: Walle arrived as a stray at a high kill county shelter. He was an easy target to not make it out the front door due to his extreme shyness so we spoke up for him before it was too late.
Walle came to us from a high kill shelter. He was so frightened and would literally shake when you approached him. Being so shy, he was an easy target to not make it out so we spoke up for him.
Not to be confused with the robot from the 2008 movie, our Walle is the gentle and handsome hound mix you can find right here at CFC. Walle might be slightly reserved when you first meet him, but offer him a few yummy treats and some friendly conversation, and watch his shyness melt away. Despite his initial reservations, once Walle begins to trust you, you will be his friend forever. He will make some lucky person or family a fantastic, loyal companion.
Walle is more relaxed and laid back than many hounds who are ready to go and do and then go and do some more. Though he enjoys prancing in a fenced yard, he also loves to snuggle up on his bed and take it easy.
His ideal home would be on the quiet side with a family who will introduce him to all the wonderful things the world has to offer at a pace he's comfortable with. A home with another well-balanced dog who could show him the "ropes" of the household would go a long way toward helping him settle in. In other words, a steady routine + a loving person with a pocketful of treats + a dog friend = one happy Walle.
Fall 2023 Update: Quirky, loveable, eccentric Walle is still being all of the aforementioned!! Since our last check in, it's still a few steps forward with Walle and maybe a step back and then a step forward and on and on! We've recently been accepted by the Trust Technique Centre as one of their affiliate rescue centers. The technique is gentle and effective and is based on the theory that deepening the bond between people and animals can transform the lives of both. We have targeted our good friend Walle to participate in this new approach to help get him moving along literally (he's very stubborn on the leash) and mentally to a more confident and peaceful state. Walle is still on daily meds to take off the edge and he still has long time roomie, Winston the hound to help in the area of companionship, routine and stability. We're excited about the potential of this new program and how it might really help and transform Walle. Paws crossed.
Volunteer Thought March 2022: Walle is just the best and to learn of his story and how awesome he is doing now is enough to melt ALL hearts! Walle was so shy at the kill shelter (where we found him) that he hunkered down in an attempt to make himself as small as possible. All the while, he was shaking like a leaf! Leash walker? No way, Jose! Today, Walle is a totally different dog and a HUGE source of joy for us all!
It did not take long for Walle to embrace me and start to give me hugs and kisses! A fantastic, snuggly kind of guy, while sitting in the Vet Tech office which he shares with senior hound, Winston, Walle's head was in my lap and kisses were in great abundance. The hips were also in full swivel mode. Can it get any better?
Walle is still more shy in his initial meet/greet with a human but his love and trust will quickly grow with you. Walle's playful side is starting to emerge as he chases balls and runs around acting goofy. He's good with other dogs (and likes them!) but can be a bit awkward with them as if he's not had much prior interaction/play time with them. He's learning quickly though and getting into the groove of basic doggy to doggy interaction. He would be best suited in a home with another dog to learn and mimic their behaviors to help guide him to ideal pet status. Walle is a younger fellow (1-2 yrs old) who is particularly calm and polite and according to the Vet Tech, is THE best "spooner" around! In the office, if you stretch out on his doggy bed, Walle will mold himself around you for the perfect spoon fit! LOL. Walle has been respectful living in the vet tech office area and is now a skilled in and out dog mastering the doggy door to the outside fenced in yard. In general, we sense Walle has had a more limited life experience so his new family will find that there are many new "firsts" for this handsome fellow. What a treat to be the one to help him broaden his horizon and explore, go and do!
Walle has impressed us so very much with his progress and we can't wait to see what is next for this incredible fellow. Perhaps you will be the one to help him find his best pet persona!!!